Best SEO Extensions You Can Use in Google Chrome
What Is SEO Extension?
An SEO extension is a browser tool that allows website owners to get the SEO metadata of a page in an accessible, fast and simple way. They can help with on-page SEO optimization, keyword research, ranking checking, and SEO-related aspects. These are beneficial for competitive link-building and analysis. You can use these extensions on Google Chrome to modify the browser to show what you are searching for. So in this article, we will discuss the best SEO extensions used on Google Chrome. Also, they can help you with the following:
Technical SEO
Tracking traffic and conversion rates
On-Page SEO optimization
Rank Checking
Backlinking Opportunities
Conducting SEO audits
Keyword research
Off-Page SEO tracking
Competitive analysis
Keywords Everywhere
Keywords Everywhere is a popular extension for keyword research among contributors. It determines which phrases and words are popular while doing keyword research articles. This tool shows three information types for keywords on Google: cost per link, monthly search volume, and Google awards competition. It puts keyword data where you want it. It allows you to spend less time tabbing back and forth. Also, it enables you to spend more time boosting your website's SEO. As a result, by expanding your list of keywords, it offers a list of long-tail keywords, related queries, and keywords. Keywords Everywhere is a free SEO plugin. How to use it? Just install it, and you can see a keyword search right there.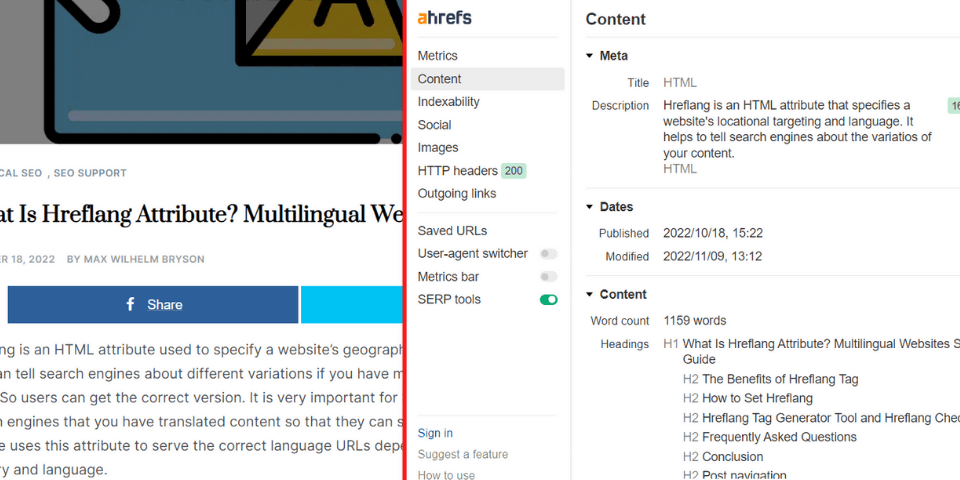 Ahrefs SEO Toolbar
Ahrefs SEO tool can replace most other SEO extensions for Chrome. It offers features like a redirect tracer, link checker, on-page SEO report, and search location simulator. This extension can help you send URLs to Content Gap and Link Intersect reports easily. It produces links, keywords, and ranking profiles that offer SEO improvements to your website. It can be used to examine website properties. You can go deep into any SEO metric to see where strategies are working and their need for improvement. It is a primary tool for SEO executives to track all significant activities of a website. You can use this toolbar on Chrome to eliminate the need to revisit the Ahrefs.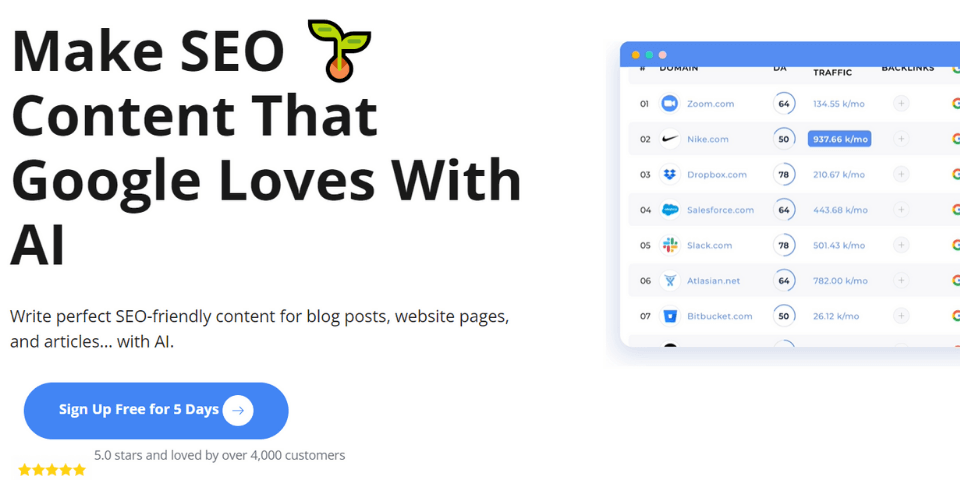 GrowthBar
GrowthBar is the best choice if you have a beginner SEO domain. This SEO Chrome extension gives access to relevant SEO data for websites. It helps you to find relevant keywords from competitor websites by providing keywords the website is ranking the most. This tool is built for marketers and bloggers to write SEO-optimized blog content and discover keywords. As a Chrome extension, you can use it to deal with keyword research, come up with titles and name your page for top rankings. When it comes to GrowthBar review, the standard price is $79/mo, easy to use, and it possesses excellent customer support.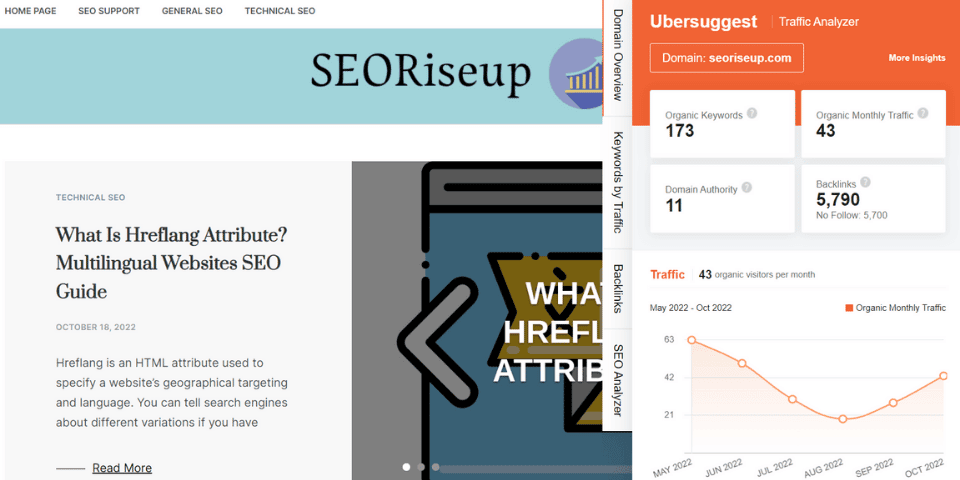 Ubersuggest
Ubersuggest is a free Chrome extension launched by Neil Patel that shows actionable SEO metrics directly in Google search results. When searching on Google, it is important to access SEO metrics related to the search phrase. So by installing the Ubersuggest extension, you will get competitive insights on the top 10 results of the SERP.
Keyword overview. You can see an overview while doing a Google search. Also, you will see the monthly search volume and the cost per click for that keyword.
Link overview. For a detailed link overview, you can see a graph in the sidebar that breaks down referring links that belong to the top 10 listings.
Language and country. The extension allows you to change location and language. To use it, download it for free and open an account.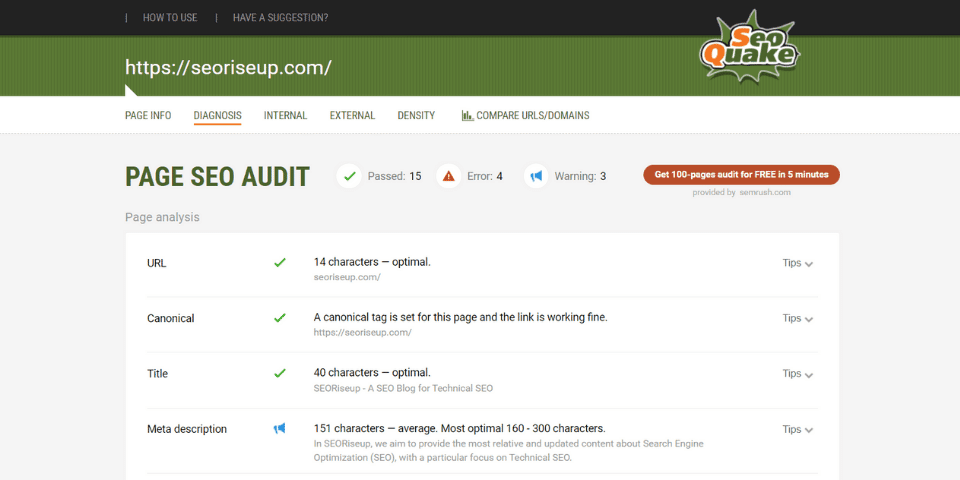 SEOquake
This extension is offered by SEMrush, providing a simplified tool to monitor on-page SEO. You can get an overview of various on-page metrics like canonicals, meta tags, tags, sitemaps, and others in an accessible way. As a dashboard, it reports on domain performance and individual pages. Its prime feature is an SEO toolkit that allows users to watch keyword rank and analyze backlinks. It is a great way to optimize content in real-time and access robust analytics. You can use it to track how the website is doing in SEO evaluation.
How to Use SEOquake
Download the plugin.
Sign up for a free SEMrush account.
Check competitors' actions and determine what's going on with your website.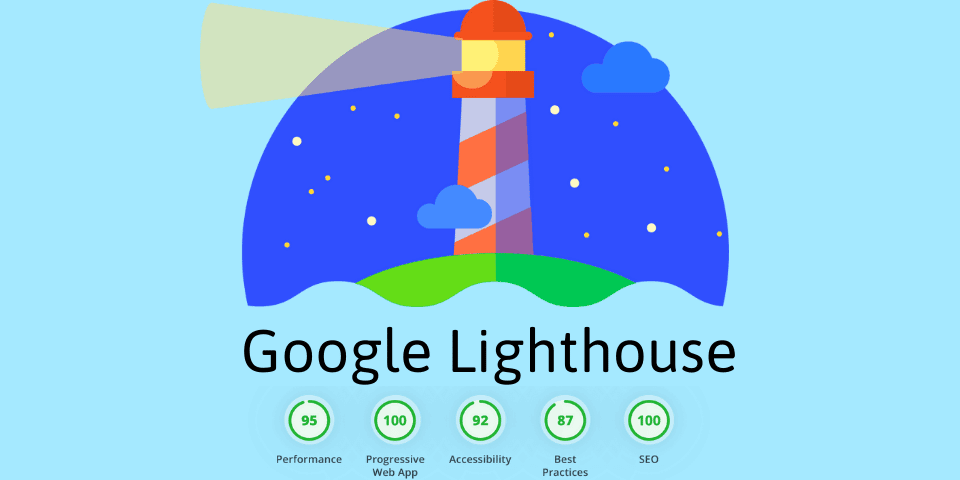 Google Lighthouse
Google Lighthouse is a free, open-source tool that helps improve a website's overall experience, speed, and performance. Generating Lighthouse reports makes it easy to enhance the quality of web pages. You can use this tool via a node module, Chrome extension, web user extension, and Chrome DevTools. You can submit a URL to an automated tool to execute page audits and build reports about the webpage's performance. You can optimize pages better for search engines. LightHouse reports consist of five things: performance, SEO, accessibility, best practices, and progressive web app.
To know how to use Google Lighthouse, you must install an extension and run commands. You can use this extension with Chrome DevTools, web.dev, and others.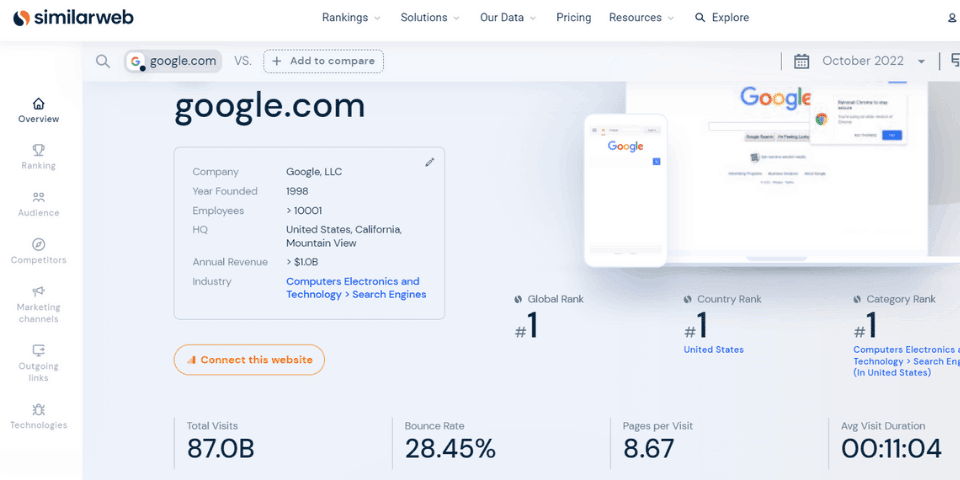 SimilarWeb
SimilarWeb is a free extension that offers key metrics and traffic for any website. It allows users to see statistics and strategies for any website while searching the internet in one click. This extension is very important for those looking for effective SEO strategies and interested in analyzing various trends in the market. It allows users to see what the competition is up to and how it works. You can improve your SEO practices by gaining insight. There are many SimilarWeb competitors.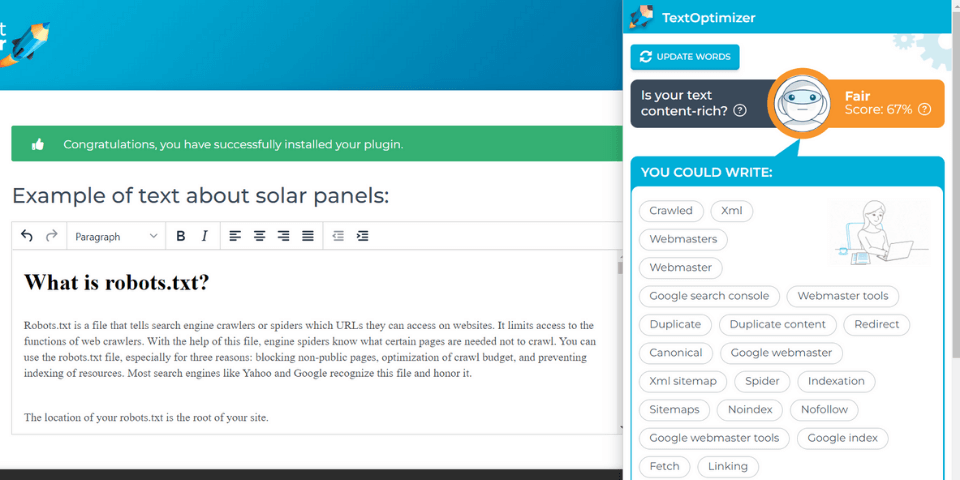 TextOptimizer
Well-optimized content is very important when it comes to attracting traffic to a website, especially in SaaS marketing. The Textoptimizer Chrome extension allows you to optimize your article on the same page. First, it scans your webpage against ranking search results. Then you get suggestions about words to include in the content that can match SEO expectations. This will help grow your SEO and online visibility. As a result, you will have SEO-friendly content. It has both free and pro plans. This writing assistant tool helps you write high-quality, concise, and targeted content optimized for search engines and rich for your readers.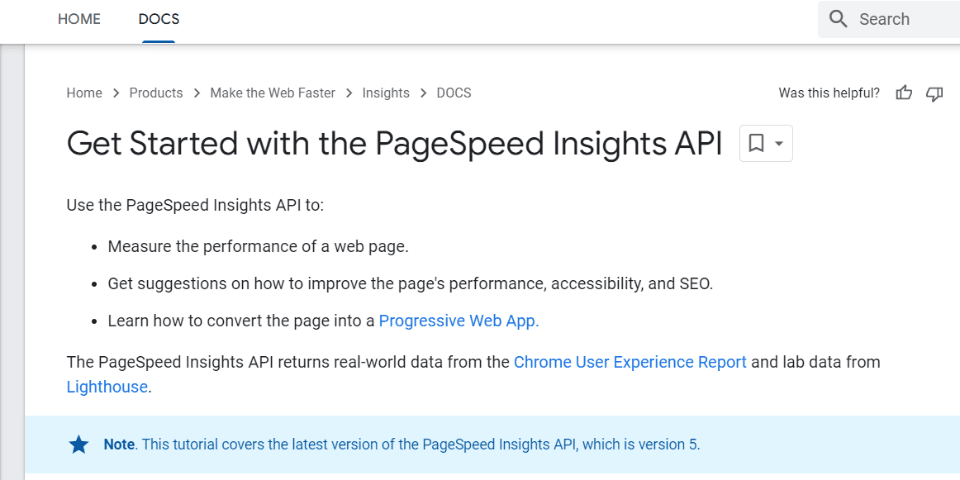 Google PageSpeed Insights API Extension
Google PageSpeed Insights Chrome is an SEO extension that provides information on mobile and desktop sites. It runs an analysis and gives a score on the site, and gives suggestions on how to make webpages run faster than before. The speed of websites is one of the most important things. So it helps improve page speed and boost search ranking. After the analysis, it provides suggestions and helps improve the speed index.
GTmetrics vs. PageSpeed Insights
Both of these extensions have performance scoring, performance history, and alerting functions. But Gtmetrics doesn't possess SEO insights like PageSpeed Insights does. On the other hand, PageSpeed Insights doesn't possess scheduled page monitoring. While Gtmetrics is better for companies and organizations with complex websites, PageSpeed Insights is better for those new to website performance monitoring.
PageSpeed Insights effectively improves First Contentful Paint, Large Contentful Paint, and First Meaningful Paint. But the functions and success rate vary. Also, it has a total blocking time metric that measures the total amount of time in which all user-manipulatable elements on the page are blocked from the input.
But when it comes to Time to Interactive, it measures how long a page takes to become completely interactive.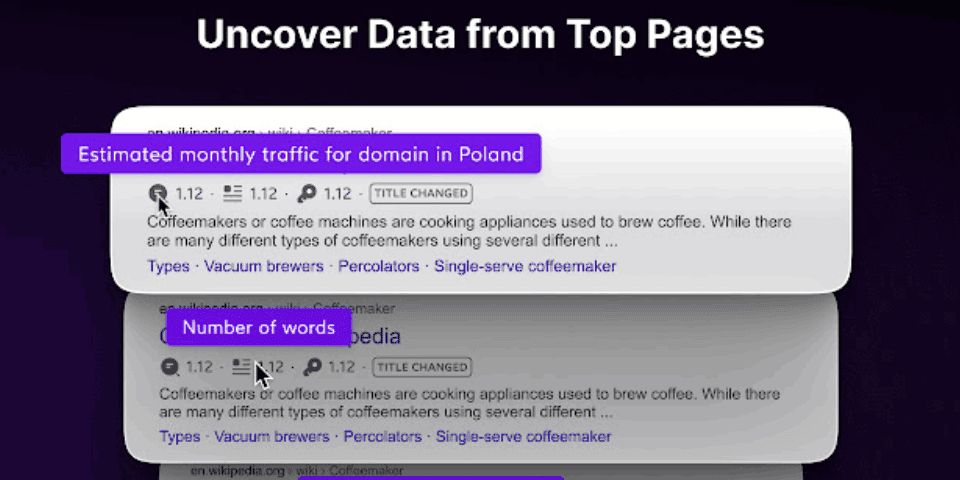 Keyword Surfer
Keyword Surfer Chrome extension allows you to see the search volume, estimated traffic, cost per Click, the word count of competitor's pages, a complete list of keyword ideas, and an exact number of keywords used with overlap score and search volume. In order to know how to use Keyword Surfer, you need to follow Keyword Surfer Tutorial. First, you must install it and then analyze the competitor's content. Also, you need to use it for keyword research. It will help you narrow down your content and give additional keywords. It has a function called AI Article Outline Builder. It outlines what pages can include building a rankable SEO-friendly article. 
MozBar
MozBar chrome extension is a tool that has free and pro versions. This extension allows you to check SEO within the browser with just one click. It provides metrics while viewing any webpage and allows you to export SERPs into a CRV file. Also, you can access analytics. The premium feature offers functions like page optimization, analyzing keyword difficulty, and SERP metrics. The best part is that it makes checking your SEO simple as possible. It saves time for huge SEO pros.
It provides a search engine ranking score called Domain Authority that predicts the chances of a website ranking in SERPs. On the other hand, Page Authority predicts how well a page will rank in SERPs.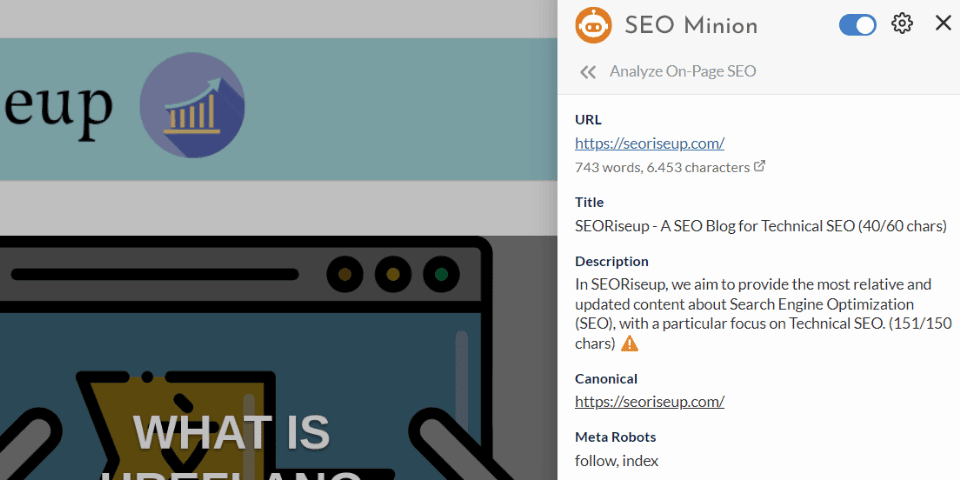 SEO Minion
SEO Minion is a free chrome extension tool that allows streamlining day-to-day SEO tasks. It analyzes on-page SEO, checks broken links, and previews SERPs in real-time. It is a great way to save time on SEO without sacrificing search ranking. It adds new tracking and analysis options based on user feedback. So it is an excellent choice for specific needs and basic tasks. Also, it helps you in daily SEO tasks such as Hreflang Checker, SERP Simulator, and Google Search Location Simulator.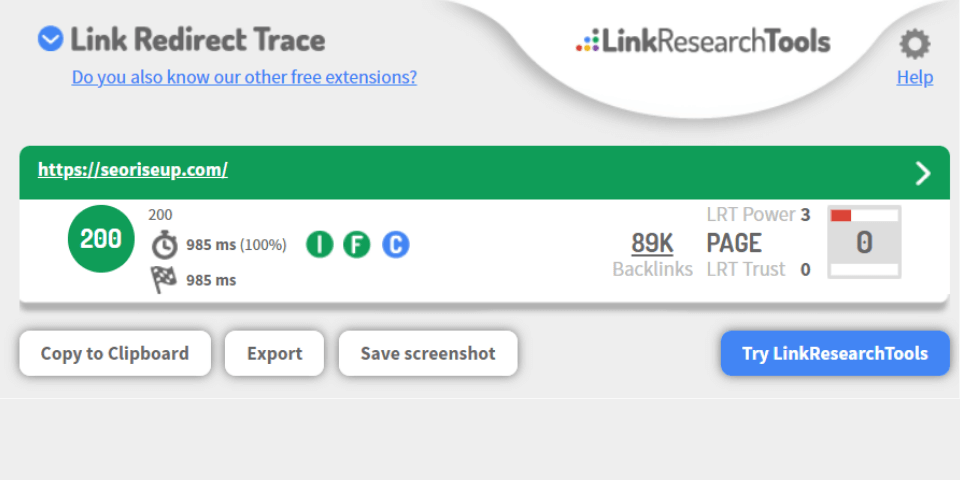 Link Redirect Trace
Link Redirect Trace extension allows users to check if their redirects are SEO-friendly or if they harm their sites. It is very effective to trace Firefox. By using this extension, you can:
Spot On-Page and Off-Page SEO issues
Find redirects
Find and fix redirects that will help improve user experience
Export full redirect trace
Investigate links from advertising
Spot indexation issues on redirect hop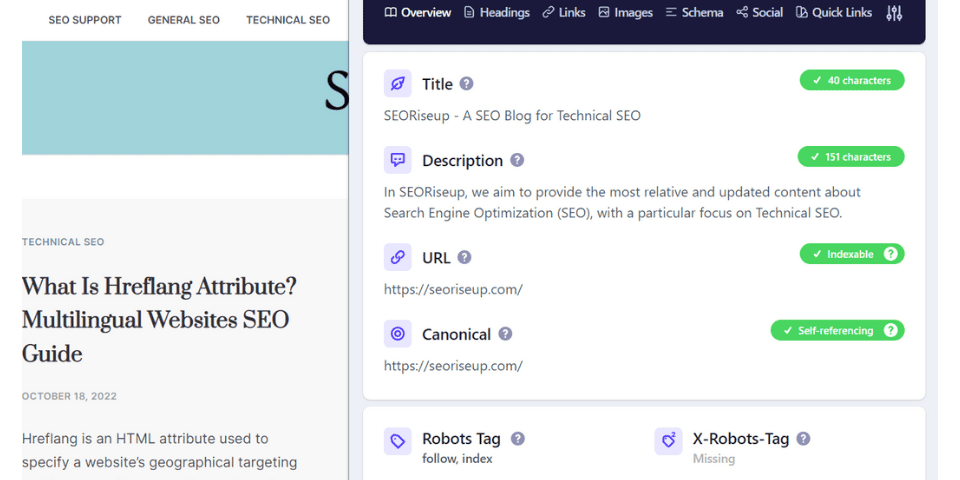 Detailed SEO Extension
Detailed SEO extension allows you to get meaningful information without looking through the source code. Users can gain insight into headings, links, images, and schema. Using this extension, you can get deep insight into SEO without switching between tabs. It provides users detailed view of their websites. They can get a complete website analysis from its canonical link, URLs, title description, and word count.
Frequently Asked Questions
Which Chrome extension is the best for SEO?
Extensions such as MozBar, Keywords Everywhere, SimilarWeb, and Hunter are the commonly used tools in Google Chrome.
Which SEO Google Chrome extensions are free to use?
SEO Minion, MozBar, SimilarWeb, Ubersuggest, and Google Lighthouse extensions are free to use. Some of them have premium versions as well.
Conclusion
In this article, we've discussed the best SEO extensions you can use on Google Chrome. It is vital to get the SEO metadata of a page in an accessible, fast and straightforward way. Users can help with on-page SEO optimization, keyword research, ranking checking, and SEO-related aspects. These are beneficial for competitive link-building and analysis. You can use these extensions on Google Chrome to analyze a website's redirects, performance, keywords, tracking, and other functions. Each extension has features and functions that can help boost website performance and SEO success.