How to Make Use of XML Sitemaps for SEO
XML sitemaps list a website's essentials. Sitemaps assist search engines index all website pages. An XML sitemap can provide a comprehensive listing of a website's page structure, as well as details on the last time each page was updated. This data may be used by Google and other search engines to improve the crawling and indexing of webpages on their respective platforms. Including XML sitemaps as part of your SEO plan gives you the ability to do the following:
Use a tool such as XML Sitemaps or Yoast SEO to produce an XML sitemap for your website. Other options include XML Sitemap Generator.
You need to make sure that the search engines have access to the sitemap by using tools such as Google Search Console and Bing Webmaster Tools.
Because sitemaps perform at their optimal level when they are maintained up to date, it is imperative that you regularly update them by adding new pages and removing outdated ones.
You may communicate to search engines which of your pages are most essential to you by arranging them on a sitemap in the order of their value.
Maintaining a watchful eye on the sitemap may help you improve the search engine optimization of your website by allowing you to see which pages are being crawled and indexed.
When it comes to search engine optimization, sitemaps are useful, but they cannot take the place of sound website architecture and content of a sufficiently high quality.
What Does a Sitemap Do?
It is recommended that you should not allow search engines scan every page of your website in order to boost its ranking in the search results. It is not necessary for search engines to index certain websites, such as the "thank you" page that appears immediately after a user has successfully submitted a form. Sitemaps are similar to road maps, but for websites and other online locations. Search engines are made aware of sites that might otherwise be obscured by the use of a sitemap. Even if your website does not have an extensive internal linking structure, search engines may nevertheless utilise your sitemap to locate all of the important pages on your website.
In addition, a time stamp and date stamp will be appended to each URL that is included in the sitemap. Include the date that the page was most recently updated to improve its indexing by search engines. Sitemap revision dates serve as a notice to search engines, prompting them to re-crawl your content and update their indexes of it.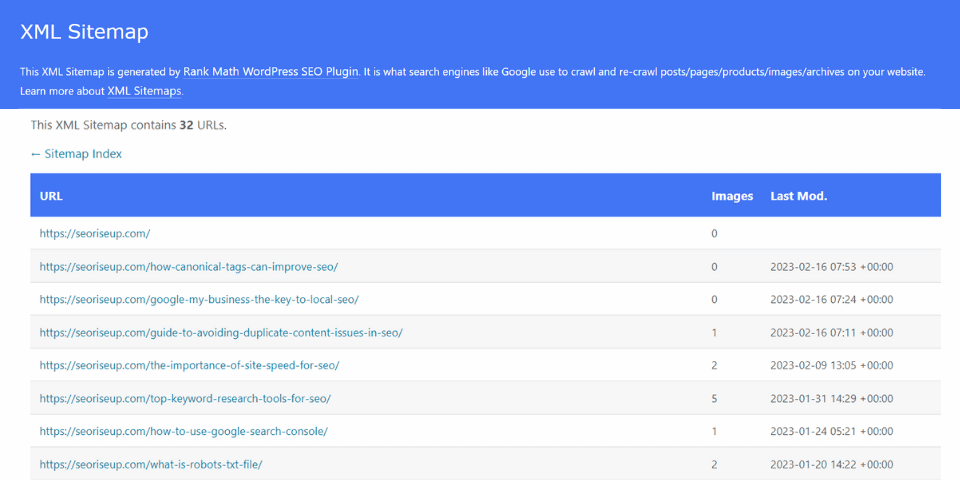 What is Sitemap SEO?
Sitemaps are an excellent method for informing search engines about the pages on your website so that the search engines can index those pages. Even if you were unable to locate them without outside assistance. (A web page is going to be utterly invisible to search engines if it doesn't have any relevant internal links.) Because of this, the absence of a sitemap raises the possibility that your page will be entirely disregarded.
When you include a URL in a sitemap, you are telling search engines that you consider that resource to be important to your website. It won't make a difference if you skip through some pages. Additionally, this allows you to "crawl" on a reduced financial budget.
FAQ's About Sitemap SEO
What should be included in a sitemap to optimize sitemap SEO?
Include just the most important URLs from your website in the sitemap. There are two implications of that you need traffic to visit this page because of the value it offers your readers.
Should I have more than one sitemap?
It is essential to have both an XML sitemap and an HTML sitemap.
Conclusion
The search engines and visitors should be able to utilise your sitemaps to go to the material on your website that is most valuable to them. In addition to this, they will not index the papers that you have specified not to be included. You may increase your search engine optimization (SEO) in two different ways: by giving certain URLs more weight than others and by making it simpler for search engines to evaluate your website. In addition, there is no need to avoid supplying a sitemap due to the fact that doing so is so straightforward.